Welcome to my website!

Click on the objects to see more about the projects.
Click on the bezel of MBP or the magnifying glass to zoom in and out of the MBP.
Click on anywhere else to go back to this index page.
Display of website projects would be unideal and compromised due to the extreme size of iframe, therefore viewing website project in a new tab is recommended.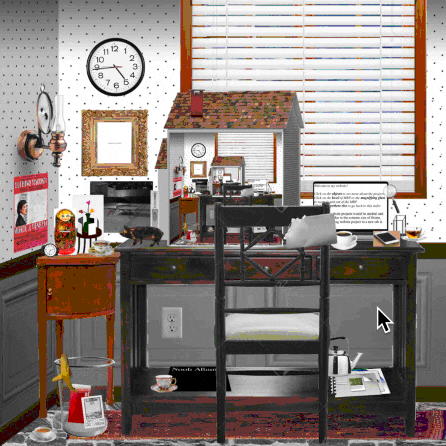 You can contact with me via email, Instagram or Wechat (xoesan).


Also, here is a list of projects displayed on this website:

| | |
| --- | --- |
| <iframe> as a miniature house | website, essay |
| <iframe> as a window | website |
| Ten Stories, A Story | website, writing |
| As Precise As Time | website, sound |
| All Hail! Dschinghis Khan | ongoing |
| LPA | website, dome, video |
| TTTC | website |
| cai-minhao.com | website |
| Books by Lao Shuo-wei | website |
| A banana | website |
| A steel kettle | Instagram Effect |
| Cities | video |
| A wrist watch | website |
| Poster, Stories from the Room | poster |
| Om | video |
| Noob Album | website, music |
| nuinunu.com | website |
| Gustav meets Ben | video |
| O,O,O,O | animation |
| TTTLAX | website, print |
| huhuanzhe.com | website |
| GAC Exhibition Plan | print |
| Oral-B Toothbrush | painting |